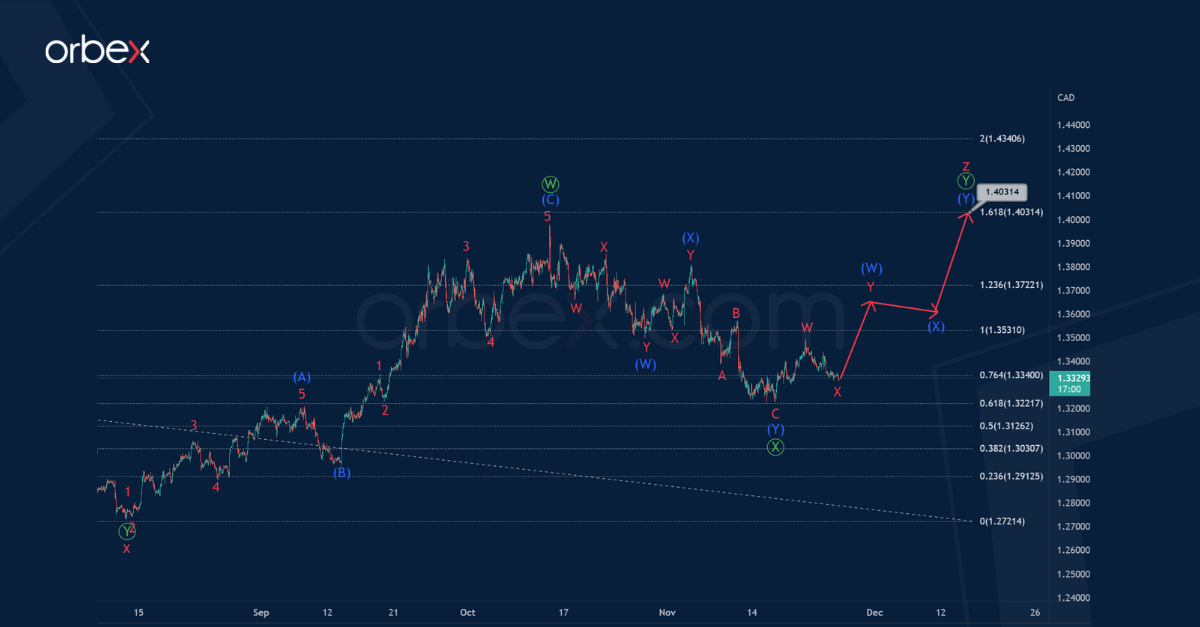 The USDCAD current timeframe illustrates the internal structure of large correction patterns. This is most likely to be a triple zigzag cycle w-x y-x z.
These four sections have been completed. Now, the final sub-wave actionary z is being built. The wave z takes the form of a primary double zigzag Ⓦ-Ⓧ-Ⓨ.
The final actionary primary wave Ⓨ could end in the form of a double zigzag (W)-(X)-(Y) near 1.403. Cycle wave z at that level will be 161.8% of cyclewave y.
Let's consider an alternative scenario. The formation of a three-dimensional zigzag pattern could then be completed. The initial phase of a new bearish trend has begun.
The construction of a primary triple zigzag Ⓦ-Ⓧ-Ⓨ-Ⓧ-Ⓩ is the beginning of a larger correction pattern. It is likely that the primary waves Ⓦ-Ⓧ-Ⓨ-Ⓧ are already over.
In the near future, we could see a bearish primary wave Ⓩformation. This could take the form of a standard zigzag (A)-(B),-(C) with an end near 1.304. At that level, primary wave Ⓩ will be at 76.4% of wave Ⓨ.
Do you think the CAD will do well in the next few weeks? Get started with Orbex and start trading now 
The post USDCAD has the Cycle Triple Zigzag ended? This article was first published on