Trading strategy for MetaTrader 4 based on the SFT Balance Line indicator
The strategy is suitable for any currency pairs, as well as for trading metals, indices, options and cryptocurrencies (Bitcoin, Litecoin, Ethereum, etc.)
Trading can be done on any timeframe.
Depending on your preferences, trading can be both scalping, intraday, and medium-term, long-term.
The basis for opening trades is the  SFT Balance Line indicator
It automatically calculates the balanced price value and shows in which direction and by how much the balanced price value is currently shifted.
You can trade using this indicator alone.
And at the end of the article there are links to the indicator with a description and the possibility of free testing, as well as a video review of its capabilities.
It is recommended to work according to this strategy only with reliable and trusted brokers who have no problems with the withdrawal of earned funds.
It is desirable that the company has   ECN  ,   NDD  ,   STP   or   PRO   accounts with a small spread and a low commission per transaction.
We recommend trading with   RoboForex   , where we test all our products
Installation and setup
For more information on how to choose, install, test for free, as well as buy indicators, see YouTube in   training videos
The settings described in this manual are specified for the   EURUSD  currency pair .
For other instruments, additional adjustment of the indicator parameters may be required.   
With a little experimentation, you can choose the settings for any trading instrument.
Trading with the SFT Balance Line indicator
Indicator settings
Balance Line Period

 

 — indicator calculation period;
Trading Rules 
When the indicator reaches levels  1, 2  or  3    , you can consider opening short  Sell  or  Put  positions (for options);
When the indicator reaches levels    -1, -2  or  -3    , one can consider opening long   Buy  or  Call  positions (for options);
The direction of the trade must match the direction of the trend on the higher timeframe.
The direction of opened deals should correspond to the direction of the trend on a higher timeframe.   
If you are trading on M1 or M5, then you should focus on M30 and H1.
When trading on M15, M30, and H1, we focus on H4, D1, and W1, respectively.  
The trade is exited when the indicator crosses the zero level.
You can also exit on the established orders SL and TP.
When using SL and TP, it is desirable to set the SL for the nearest extremum, and make the TP equal to 1 to 2 SL sizes. 
This indicator has proven itself when used in conjunction with the free     SFT   Bullet Arrow indicator.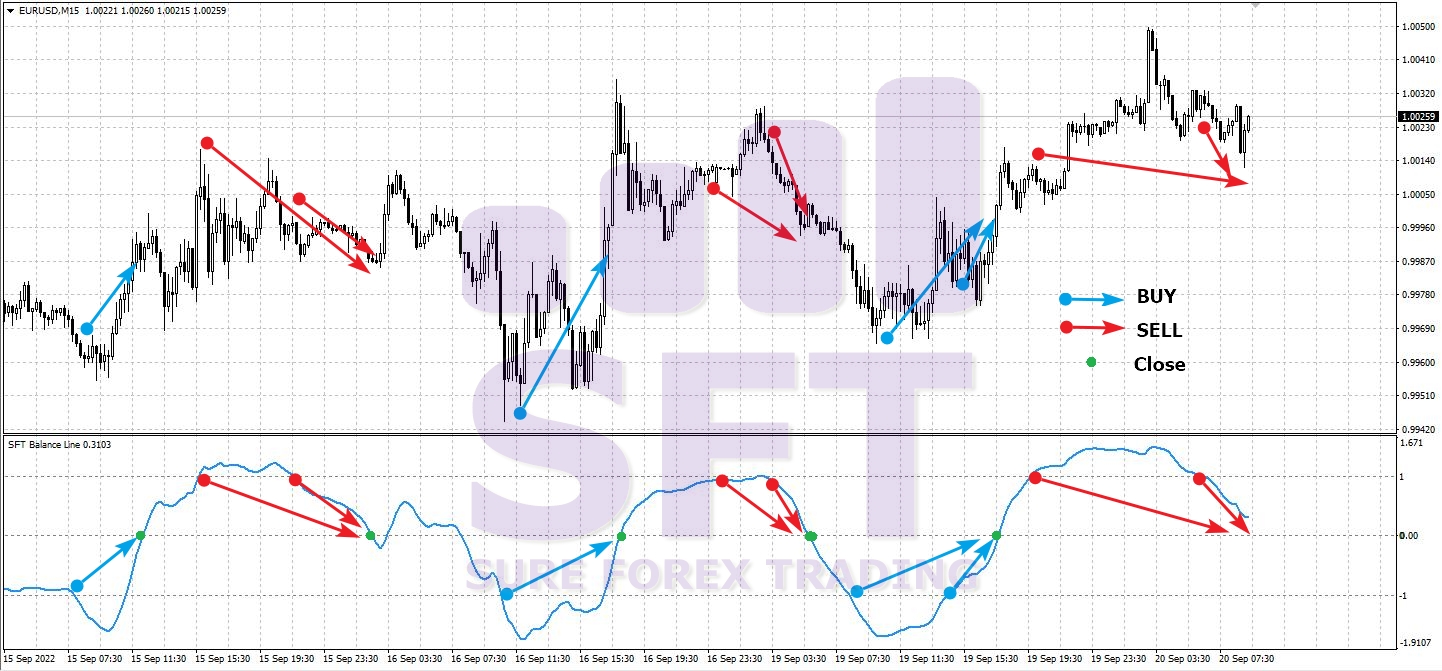 Try our other indicators, 
among which there are completely free ones, as well as paid ones, but with the possibility of free self-testing.  
You can find a complete list of our products here: 
SFT Official
Indicator and its overview:
We wish you stable and profitable trading!
To be the first to know about all new and bonus products. And also to receive various benefits and chips on the topic of trading.
Subscribe to our telegram channel:
@SFT_official
And don't forget to add as a friend:   SURE FOREX TRADING

Thank you for using our software!
If you liked it, then do a good deed and share the link with your friends.