The Asian Development Bank slashed growth forecasts for developing Asia from 5.2% (April forecast) to 4.3% in 2022, and 5.3% to 4.9% in 2023. It said, "The revised outlook is shaped by a slowing global economy, the fallout from Russia's protracted invasion of Ukraine, more aggressive monetary tightening in advanced economies, and lockdowns resulting from the People's Republic of China's zero-COVID policy."
As for China, growth forecasts was downgraded sharply from 5.0% to 3.3% in 2022, and from 4.8% to 4.5% in 2023. India's growth forecast was also cut from 7.5% to 7.0% in 2022, and from 8.0% to 7.2% in 2023.
On the other hand, inflation forecast was raised from 3.7% to 4.5% in 2022, and from 3.1% to 4.0% in 2023, "due to higher energy and food prices".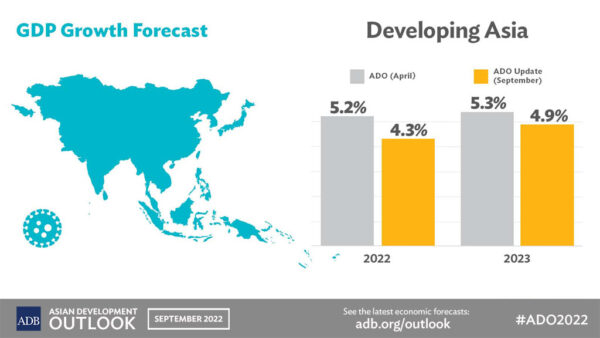 Full release here.